Carpenters Training Center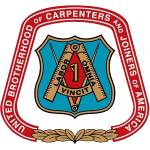 9270 Bass Pro Blvd.
Rossford, Ohio 43460
Phone: (419) 872-4651
Email: mball@ohcap.org
JATC Website: www.ohcap.org
---
Affiliated College(s):
Apprentices of Carpenters Local 351 can receive course credit towards an associate degree in a program offered by Owens Community College (Findlay, OH) or Penta Career Center (Perrysburg, OH).
---
Facility & Certifications:
Commercial Carpentry
Floor Laying
Millwright / Piledriver
Courses Taught:
Each program consists of 17 classes taken over the course of 4 years.
Training Program Info:
The Ohio Carpenters' Joint Apprenticeship and Training Program offers one of the top carpenter apprenticeship programs in the nation. More than 1,500 apprentices are enrolled in our four-year program throughout Ohio, learning their profession at state-of-the-art training centers, with a customized curriculum, using modern tools and training shops designed to create true experts. Apprenticeship training is the hallmark of Ohio carpenters. When they graduate, they are proven professionals in the most up-to-date theories and methodologies, tools, installation procedures, and safety measures. Our apprenticeship graduates enjoy top jobs, earn competitive pay and benefits, and are considered by employers to be among the best and brightest in their fields.
The Northwest training center covers 21 counties in Northwest Ohio.
Training Coordinator Name:
Mike Papalia
Senior Instructor Name:
Mike Ball
Senior Instructor Bio:
Mike Ball is the Lead Instructor at the Northwest Ohio Campus. A member of Local 351 for 20 years, Mike began his teaching career in 1995 as a part-time residential carpenter instructor. He moved into a full-time commercial carpenter teaching spot in 1998 and was appointed as the school's coordinator in 2008. Of the Northwest campus' five school-to-work programs, Mike is a board member for two of them: Rogers and Whitmer high schools.